ActiveCampaign
UK Certified Consultant
The email marketing, marketing automation, and CRM tools you need to create exceptional customer experiences.
Grow your business with ActiveCampaign
Find new customers, build brand loyalty, and create exceptional customer experiences every step of the way with ActiveCampaign's unparalleled email marketing and automation solution.
Our cutting-edge technology takes care of the tasks that no one else has time for, acting as an additional team member without requiring an extra desk. By implementing smarter automation, we guarantee that your customers will enjoy a seamless and personalised journey, resulting in unparalleled satisfaction and loyalty. Discover the endless possibilities of automation. Experience the power of a personalised welcome series powered by email automation. Keep tabs on customer interactions with the help of tags, custom fields, analytics, and performance reporting. Seamlessly gather information from every offline and digital channel - from social media to live chat, landing pages to text messaging - and let automation handle the marketing tasks that no one has time for. With ActiveCampaign, revolutionise your audience engagement and unlock unprecedented growth and success. With ActiveCampaign, you can truly revolutionise how you engage with your audience, paving the way for unprecedented growth and success.
Marketing
Send newsletters, design beautiful email campaigns, and keep in touch with your contacts and customers.
Capture new leads effortlessly with our integrated forms. Elevate your email marketing to new heights with advanced features like segmentation, dynamic content, and split testing. Deliver personalised messages that captivate and engage your contacts.
Short on time?
Our user-friendly interface ensures that you can start benefiting from our platform immediately. Utilise automation tools, such as welcome series, to effortlessly build meaningful relationships.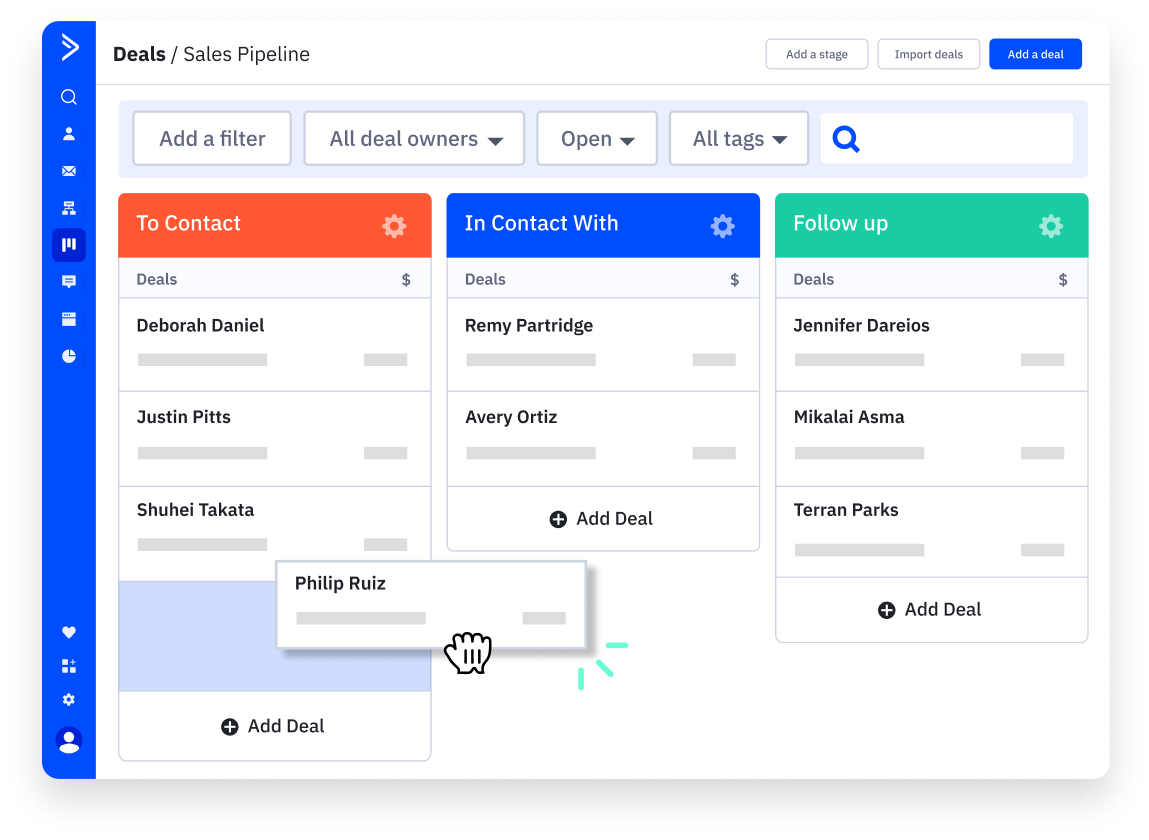 Bridge the gap between sales and marketing
ActiveCampaign integrates sales, marketing and CRM for seamless customer lifecycles. Automate actions for your sales team, nurture leads and close deals.
Marketing Automation
Automate your marketing channels using personal and behavioural data about your contacts.
Marketing initiatives that work: Behaviour tracking, attribution and machine learning help you understand your leads and tailor your messages. Automation goals and split actions keep you focused and give you insight into your campaigns' effectiveness.

Are you worried about the cost of marketing automation?
Marketing automation tools have a high return on investment. ActiveCampaign is an affordable option for small businesses with no setup fees and low monthly costs.
Sales & CRM
Get more leads and close deals faster with our refreshing new take on customer relations.
Manage your contacts, create custom sales processes and easily grow your contact database. Behaviour tracking and lead scoring enable you to give your sales team the edge when it comes to closing deals.

No more missed opportunities.
It can be challenging to keep track of all your leads. ActiveCampaign makes it easy. Use behaviour tracking, lead scoring and more to close leads at their prime.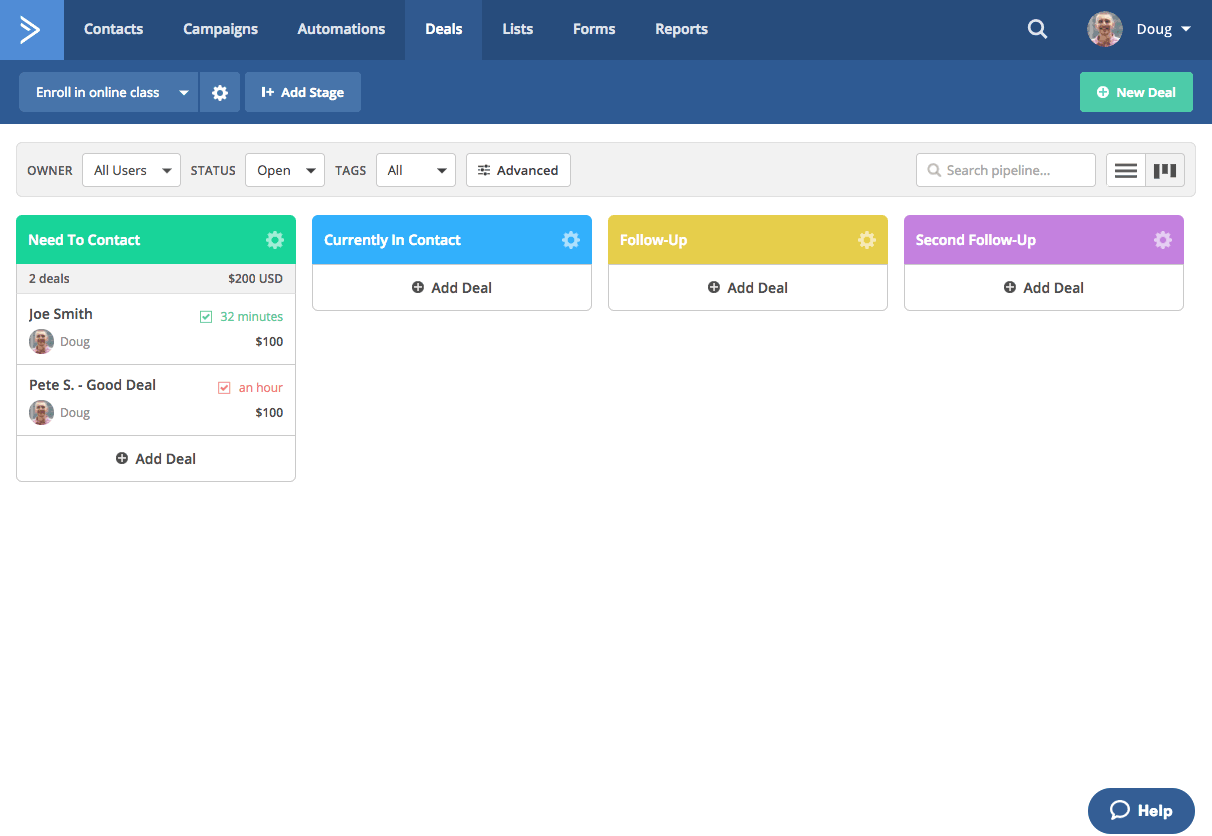 Feeling unsure about the success of your campaigns?
For small businesses, marketing can often feel like a game of trial and error. But with ActiveCampaign, you have access to valuable customer data and campaign reporting right at your fingertips. This empowers you to make informed decisions and focus your resources wisely.
What Can ActiveCampaign Do for You?
Generate more leads

With integrated forms and behaviour tracking.
Design beautiful emails

With the drag-and-drop email builder.
Streamline your sales process

With integrated sales, marketing and CRM.
Grow your business

With intuitive reporting and data.
We Offer a Hands-on or Hands-off Approach
For many small businesses, time is stretched. It can, therefore, take time to learn how to use a marketing automation system. Despite the time the system will save you, finding the time to develop and execute a campaign can also take time and effort.
Many of our clients choose us to run the system on their behalf. Because of this, you can choose how much input you have with the system. Of course, we always maintain regular contact with our clients to ensure their voices are heard about the campaigns and automations involved.

As ActiveCampaign UK Certified Consultants, we not only save you time but also deliver exceptional results for your company. When we manage ActiveCampaign accounts for our clients, our main focus is to achieve the best possible outcomes for your business. Our clients are well aware of the advantages of using ActiveCampaign, and they often approach us with challenges related to optimising their plans and features, adopting best practices, capturing, nurturing, converting, and retaining both new and existing customers, as well as integrating with other tech stacks. (reporting, appointment scheduling, eCommerce)