CRM Implementation
CRM Implementation Service: Why It's Important and How to Choose the Right One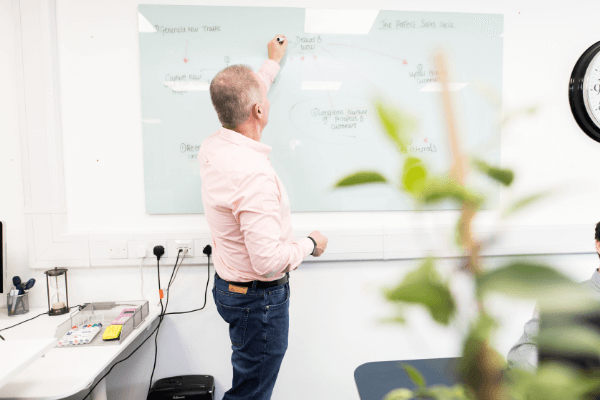 A typical implementation process begins with a thorough analysis and review of your requirements, goals and plans. To achieve this, we conduct a series of interviews with key stakeholders and team members to understand your business fully. We can then set your short, medium, and long-term goals.
Once this is fully documented and agreed upon, we can begin deployment, configuration training and support.

Once you go live, we have several support options, from fixed monthly service level agreements (SLAs) to hourly packages for consulting, training or support.
It is important to understand several elements to help you implement CRM into your business.
Scoping Process

First, we would like to understand your vision for the business. Scoping is a vital part of the process. Implementing a new CRM system into any business is a serious undertaking. Implementing CRM is a cultural change, with the potential for many internal processes to be changed or reviewed. Scoping, as you can imagine, can be disruptive.

So the first stage of the process is to understand your business fully and, secondly, to get buy-in from key stakeholders and staff members. Users of the system need to feel they have a say in the process.
GAP Analysis

Secondly, we document the differences between your preferred CRM's standard functionality and your business needs. These differences are documented in a spreadsheet, and this process and document are called a GAP analysis.
Technical Consultants Review

Once the GAP analysis is completed, normally with one of our functional consultants, the document is handed over to one. The functional consultant will review your business needs using the GAP analysis and add his technical comments and the estimated hours required to complete the work.
Approve, Reject, Postpone

The document is then returned to the functional consultant to review the technical comments and estimated hours with you. At this stage, you'll have the opportunity to approve, reject or postpone the task. Items are normally rejected if the work required to implement/automate a process isn't cost-effective. Some items can be postponed for later phases.
Project Management

Approved items are converted into tasks inside our own Project Management system. All Project Tasks are accessible via the client portal, which allows you to review them at any stage. You'll also have the ability to comment on tasks via the portal.
User Acceptance Testing

The next stage of the process is called User Acceptance Testing (UAT). UAT enables you to test the core CRM functionality and test the completed tasks in a safe environment. More complex tasks may have several sub-tasks, so they may only be available for testing once all component tasks are completed.

You'll liaise with your Functional Consultant or Flowbird Project Manager, who will advise which elements are available for testing.
Scope Creep

It's not unusual at this stage to request additional changes to the system. As you dig deeper into the CRM platform, you start to see additional potential areas that can be included or automated. Our advice at this stage is to document these changes but don't include them until after you go live.

If something fundamental to the process has been misused, we will complete a mini-implementation process to include these additional requirements.
Go-Live Day

Once UAT is complete and happy with the functionality, we will agree on a go-live date. Before going live, we train users and normally complete a final data import. At the Go Live date, one of our technical consultants will be on hand to carry out any last-minute changes and correct any issues that arise.
Continuous Improvement

For most clients, Go-live is only part of the process. Most clients work with us on a continuous improvement process as you settle your new CRM system and processes.
Support Agreements (SLA)

If no further work is required, we will agree on a Gold, Silver or Bronze support package to assist in any technical/training issues. You'll have access to the documentation and project plan at every stage of the process.
Implementation Methodology
The standard CRM implementation method uses a two-tier approach plus a business process review. During a standard 4-month implementation, 3 months would be consumed during the tier one training and business process review, and the final month would be the tier two-phase; approximately 75% of the implementation budget is also consumed during tier one. The activities during the phases are shown below.
The principle is that tier one training builds and tests the business processes, tier two training builds and tests the system used to go live.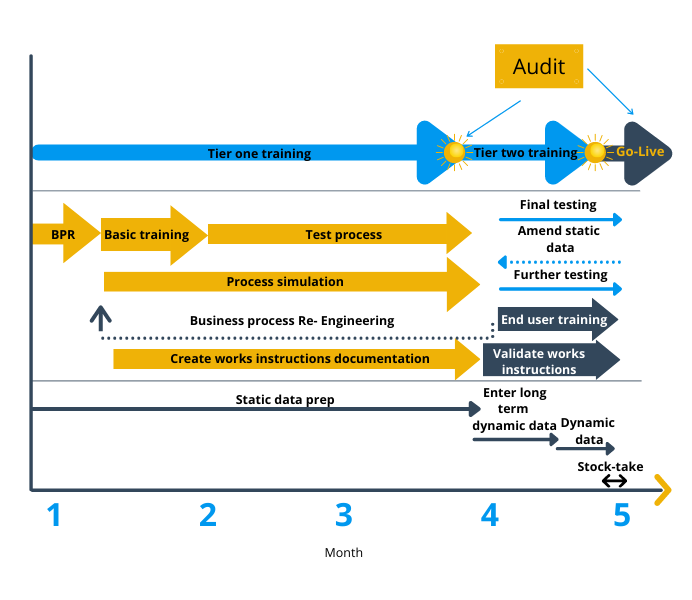 Many years of experience have developed a flexible yet robust methodology that assists with a fast-track, low-cost implementation. Several factors combine and contribute towards enabling the installation and implementation of CRM to be comparatively fast and straightforward:
The online environment is relatively easy to deploy, manage and support

CRM is inherently user-friendly and intuitive in its operation, making it quicker and easier to learn and enabling very high rates of user acceptance

CRM uses the technique of cascading user-defined defaults wherever possible. Therefore, the initial data setup can be simplified and expedited using these default parameters.

We will work in close partnership to help achieve a smooth and trouble-free implementation.

We will appoint an Implementation Manager to coordinate all our activities and act as a single point of contact.

We possess all the necessary software, support skills and experience to provide in-depth support to any CRM installation.
Business Process Review

Analyse current system
Realise any potential 'Pitfalls.'
Tier 1 Training

Basic training

System navigation

Sample static data entry

Simulate system processes

Test procedure

Re-engineer system processes

Document procedures

Create works instructions

Preparation of existing data for conversion
Tier 2 Training

End-user training

Test works instructions and documentation

Test process

Test system

Test users

Test data

Entry to the live system long-term dynamic data
Implementation Phases
Following the end of each phase of the implementation, we will carry out an audit. The sign-off of the audit will allow the project to move on to the next stage.

During the first tier, an exercise will collate and cleanse the existing data. We can import data from practically any format, but standard spreadsheets give details of the fields required, and screenshots in CRM explain where you will use the fields in the new system.
Software
CRM software is configured to the relevant number of users and applications required. We may be able to deploy additional apps with your prior agreement during the implementation process.
Technical Services
Implementation Process
The implementation begins with a high-level overview of your business and processes captured in the process review stage. At this stage, we can determine the Apps required and the basic configuration requirements. Following this stage, we will "storyboard" each App, delving deep into the individual Apps, their functionality, and changes required to suit your specific needs.

The proposal is based on the number of days required to implement a standard system determined by the anticipated number of users and apps needed, plus some leeway to enhance the platform to your requirements. You are purchasing a pack of days to implement a CRM platform. A substantial scoping process is needed to determine your exact requirements if a fixed budget is required. This can run into days and weeks, depending on your internal processes.

Our implementation methodology is far more flexible and gives you more control during the implementation phase. In most cases, clients are unaware of the potential of the CRM system, and a fixed plan is very constraining.
However, there is a downside.
During the implementation, you may be tempted to request additional changes to the platform and use up more hours than initially planned. While we aim to keep you on budget and to timescale, if you request additional work, you should consider that the project plan may be extended and additional costs may be incurred.

To make you aware of this, we will alert you at the 50% and 75% of consumed budgeted hours so that you are aware of these timescales and either reign in the additional changes or move forward with the knowledge that the project may go over in terms of budget and project completion. At all times, you will have access to the current status of your project, both in terms of hours and budget, via our online project management system.

Just so you know, within this section, we have tried to estimate costs based on our experience, IMPORTANTLY, you will only be invoiced for actual days taken. The day rate shown within this section excludes any direct expenses (hotel, airfares, mileage at Inland Revenue rates etc.) that will be recharged in the usual manner.
Project Management & General Support Issues

Flowbird will produce a project plan with the client and will be available to you throughout the project. A Flowbird project manager will ensure all tasks assigned to the Flowbird team are completed to plan. We suggest a Client project manager be appointed to enable one point of contact.
Training & Implementation Support

Following the formulation of a project plan, we will conduct training on a customised train-the-trainer approach. This will include workshop sessions by job function, e.g. sales, marketing and management etc. The exact training format will be agreed upon at the formulation of the project plan.

Training estimates for Tier 1 and Tier 2 training include a CRM Process Control configuration provision. This will give the user a basic knowledge of Process Controls and how to author and maintain them. If you need more advanced training, we will provide it at the specified day rate.
Technical Services

CRM is supplied complete with a pack of standard output templates. Inclusive within this section, if required, is an allowance for modification to these documents to suit your company's requirements.

If shown and applicable, we would do the conversion of static data from your current system; the estimated costs are indicated above. Static data includes contact information, deals or opportunities and customer and supplier names and addresses. Data for conversion will need to be available in a spreadsheet or CSV format. Flowbird is not responsible for cleaning data and correcting formatting issues unless requested and documented in the proposal.
Annual Maintenance and Support Licence
The maintenance and support agreement will provide you with all the required backup services. We need access to your system when necessary to fulfil our obligations.
---
The support facility includes:
A help desk to log and monitor support calls Monday to Friday, 09.00 to 17.00 GMT (excluding public holidays)

Online services to resolve problems quickly and with minimum inconvenience

Flowbird Technical CRM support remains in place and available throughout the entire life of the installation
CRM Implementation Packages
You can choose the right CRM implementation packages to suit your business needs.
The Importance of CRM Implementation Packages
Having an efficient CRM implementation plan can impact your business significantly. It can save time and resources, obtain accurate and valuable data, improve critical sales metrics and help your team to collaborate. With the assistance of our CRM Strategy, all of these benefits are possible. However, with every good plan, there are challenges. It is something to remember when setting goals, as it will enable you to build a solid and successful project.
CRM stands for Customer Relationship Management
As a CRM Agency, the Flowbird team loves what CRM Technology offers. They provide all the tools necessary to manage your marketing, sales and content in one place.

A CRM is a perfect opportunity to optimise and grow your business. It aids you in increasing leads, accelerating sales and simplifying your processes. These prove that A good CRM is an excellent platform if you aim to grow your business in various areas.
CRM Consultancy
Get expert CRM advice from our experienced team.
By managing your sales better, you see a significant increase in leads, customer retention, conversion, and sales revenue. Businesses that use CRMs benefit from more accurate sales reporting, improved sales forecasting, and maximised ROI of their marketing campaigns.
CRM Audit
A CRM audit is a chance to review how well your automation systems are working and how you are managing customers. It will help you to get the most out of your management strategy by removing processes that waste time and resources and increasing profits for your business.
Integrations and Settings
CRM integration focuses on connecting your CRM platform and other business software. Our goal is to provide accurate data from your business software to give you an illustration of your business and customers.
Data Migration
Companies rely heavily on databases nowadays, so it is crucial to have a reliable data migration process. This ensures that companies remain protected and their information transfers correctly. This may be applicable when your company upgrades your software or switches platforms.
Benefits of CRM Implementation
All of your company's customer-related data being stored in CRM helps you know what your customers want. CRM gives you an insight into their needs and their problems. Tuning into these will increase customer satisfaction and loyalty, inevitably improving profits.

A CRM implementation package can help you to save money. Although the packages themselves are not cheap - many errors are worth correcting. These errors can be found to waste a lot of time and resources, consequently wasting funds.

CRM helps people to organise and prioritise. When people remain organised and know what to prioritise, the customers come first. CRM gives people more time to talk with clients and close deals.