CRM Consultancy
Get expert CRM advice from our experienced team. Increase sales and improve service by managing your data better.
What is CRM Consultancy, and Why Is It Important?
As someone who runs a business, keeping your customers at the forefront of your mind is essential. One of the best ways to do this is through customer relationship management (CRM). However, it can be pretty daunting for those who need to become more familiar with the term. That's where a CRM consultancy comes in to help.

A CRM consultancy is a business that provides guidance and support to help you implement a sound CRM strategy. We can help you find the right tools, teach you best practices, and help you create a successful CRM roadmap.
It's understandable to have a few reservations about bringing in a team of consultants. After all, you may be worried that it will be wildly expensive and not worth it in the long run. However, having a great CRM system can seriously impact your business's bottom line, making it a worthwhile investment.

That's not to say that the cost of consultants isn't a valid concern. It's why reputable consulting business offers different package options to match various budgets. With the right consultancy business, you can expect them to analyse your current CRM process and identify any weak spots. From there, we will help you implement a solution to help your company thrive.

One of the benefits of using Flowbird's CRM consultancy services is that we can provide a fresh perspective on your business. We can help you identify solutions that you might not have been able to see before. It can be challenging to view your company objectively, but with a consultancy team, you can get an outside view of improving your CRM strategy.
A CRM consultancy will also help you tailor your CRM strategy to your unique business needs.
Whether building a bespoke solution or offering a pre-packaged solution, they'll help you select a CRM system that suits your company's needs. They're not interested in selling you an expensive off-the-shelf software package; they want to work with you to find the best solution for your company.
In conclusion, consulting a CRM consultancy business is worth considering if you want to improve your customer relationship management. They can offer expert guidance, fresh perspectives, and tailored support that can help your business thrive. By investing in CRM consultancy services, you can ensure that your customers remain at the forefront of your industry, generating long-term success that will pay off in spades. Whatever stage you're at with your CRM journey, we can help.
CRM on A Spreadsheet!
Is your business still relying on spreadsheets?
Businesses that still rely on spreadsheets are losing time and potentially lots of sales! Spreadsheets are not only time-wasting but can be inaccurate. Adding data to multiple systems can be messy and leaves room for error.
Would it help if you changed? That's where CRM comes in.
How can CRM Consultancy benefit you?
Implementing the right CRM will simplify your business and increase sales. We are here to help you do that smoothly. Flowbird will work with you to match your business to the right CRM system. Our experts will set up the system for you, train you and your team on all aspects and customise the design to suit your requirements.

Not all businesses are the same, and we understand that. We work hard to ensure the best fit solution is found. Our CRM consultancy ensures you get the most out of your CRM.
Increase productivity
Deliver better customer service
Improve your marketing for better results
Increase your business value
Simplify Your Business Processes
Our CRM consultancy is ultimately designed to help you grow your business by simplifying your processes and reducing the different platforms you use. On average, clients use between 5 and 10 different systems to run their businesses. In most cases, we can reduce this to 2 or 3, dramatically impacting the business and costs.
Focus on the Requirement:
Having reviewed the requirements, it is time to define the exact processes and stages required for implementation. This process ensures no project creep and that the project is on time and within budget.
Build a model:
A picture paints a thousand words, and the same is true with a CRM implementation. Mocking up a prototype for you to review and test helps understand your requirements.
Business Analysis and Kickoff:
First, we need to understand your business and your vision. To coin a phrase, we "start with the end in mind". Using mind mapping software and our GAP analysis technology, we document your requirements and split this into three stages, essential, desirable and future requirements.
Custom Deployment:
Depending on what you need, we may need to do some customisation to your CRM platform. In most instances, we try and keep this to a minimum to keep the costs down and reduce the complexity of the deployment.
Deployment and UAT:
The final stage before going live is to deploy the system enabling you to carry out User Acceptance Testing (UAT). We help users work through specific tasks and processes relevant to their roles. Once this is complete, we agree on a Go Live date.
GoLive and Support:
The platform is now live, and the system is operational. We will continue to provide support and ad-hoc training for users. Once you are confident that everything is fully functional, we move to normal support.
Flowbird uses Pipedrive as our internal system, but we work with many CRM platforms, such as HubSpot and SugarCRM. With HubSpot, you get a FREE CRM system which can be great for SMEs. It's a great way to get started on your CRM journey. As Certified HubSpot Partners, we have extensive system knowledge, so you are safe. We also partner with several other CRM platforms that may suit your business better. As part of our CRM consultancy, we will identify this and match you to the correct system.
A CRM system is designed to systemise your business processes along with the following:
Increasing your team's efficiency but cutting out unnecessary admin.
Automating your sales process, such as lead follow-up and lead scoring.
Help motivate your sales team through sales tracking, encouraging them to compete with their fellow teammates.
Add value to your database by making it more accurate.
Improve sales by identifying where improvement is needed.
Why choose Flowbird for your CRM Consultancy?
Help and advice
Working with you and your team, we will identify your business needs and match you to the correct CRM system.
Getting you set up
We will support you in customising your CRM to fit your business needs and processes. We can set up or train you to create email templates, set up your reporting, action your data import and give training to your team so they can action this ongoing.
Training and Support
We will train you and your team to get you all setup and get the best out of the CRM system. Ongoing support and guidance will also be provided.
Sales Training
We offer expert sales training to help you improve your sales processes. You will be given some great tips and guidance on best practise and provided with useful training material for your sales teams.
Get Your FREE eBook Guide to Capturing Leads.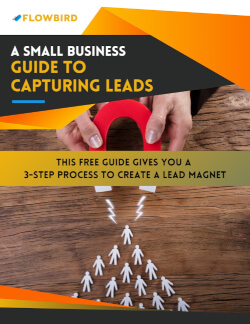 This free guide gives you a 3-step process to create a lead magnet – a powerful piece of content that pulls in the customers you want.